Bank Persatuan chose Vanilla
Bank Persatuan, a leading Corporative Bank with head Office in Penang, Malaysia, chose Vanilla ETL & Vanilla BI to develop its datawarehouse and financial reporting system.
This platform will produce FRS 139 reports, management dashboard, and provide to Bank Persatuan multi dimensional analysis that cross business domains, such as office resources with customer assets.
Bank Persatuan also confirmed their choice for a Vanilla Air instance to develop Analytical model around Risk Management, Loan delinquence analysis, Fraud detection monitoring and any business domain analysis where data analysis is a key advantage.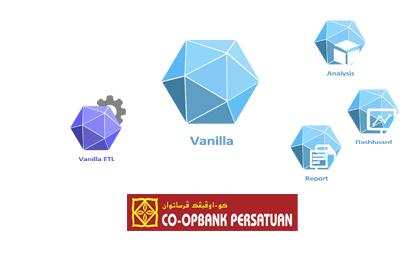 BPM Team