Big Data Analysis
- Unified business oriented solution that supports Big Data and life data blend process -
Vanilla Big Data Analysis Platform allows you to access your Big Data instantly and easilly : whatever your Big Data environment is, we provide connector to access to most popular Big Data components such as HDFS and Yarn (MapReduce), Hbase, Hive, Spark, Cassandra, MongoDb, Google BigTable, SolR or Apache Drill
Search, Analysis & Prediction
Access, Extract, Blend data from any datasource, including but not limited to big data environments, social data, wheather or financial data, etc …
Build interactive reports, dashboards or analysis using those blended data,
Create Datamining and forecast models on top of those blended data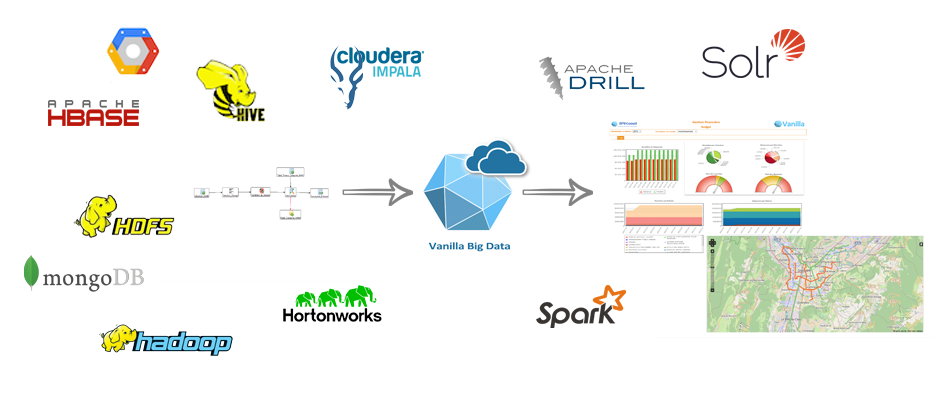 We have bundled into a single unified platform our Data Integration and Analysis components together with Hadoop, Datamining & forecast components. Running on Hadoop gives you the freedom to maximize Hadoop capabilities like running parallel processing application, then unlocking the potential of your data.
Going further than connectors in your Vanilla platform, we also developped a full environment with Vanilla Analytics. Vanilla Analytics provides the components and a unified platform for Data retrieving from Internet or other datasources, Datamining and Visualization.
Discover Vanilla Analytics
Certified with Hadoop Platforms
Vanilla Big Data Analysis Platform has been certified on Cloudera, HortonWorks and Databricks (Spark), taking advantage and empowering some of the most popular Hadoop components such as HDFS, Yarn (MapReduce), Hbase, Impala, SolR or Spark.
We have the solution for YOU
Supported DataBase : Sql, Bigdata, noSql, Analytics & Column …
You can extract and insert Data located in any relational database, analytical database (such MongoDB, Hive or HBase), unleashing the power of your data to take it back in your Vanilla documents, such as Reports, Dashboards or Multidimensional Cubes. No matter where your data are stored, we provide you with the right connector to access it, such as Impala, Apache Drill, native HDFS, native HBase, native MongoDB, native Spark ...

Visualization : Choose your Chart type, merge KPI with Open Street Maps, Google Maps …
Choose the type of graph that will ease the understanding of your data, and display it in an interactive dashboard.
A map is worth thousand reports ! Let us change your visualizations habits and enjoy full featured dashboard with maps & interactive Kpi, calculated in real time using Hadoop Yarn process.